Hi Everybody,
For those of you who are interested or have been following my progress and have been asking for an update, here is a little review of my Rookie season in Ministox.
At the beginning my aims were to qualify for the World Final and get to Blue grade.
We had just got the car sign written and went to skeggy for a practice day, was going great, but all of a sudden my engine locked solid after 20 laps, With not many days to go before the first race, we had to buy an unknown second hand engine off eBay for £290. After this my Season objectives looked quite unlikely now!
I did 4 meetings as a novice starting at the back and on the 4th meeting i was going really well from the back, I was keeping up with the pack and even picking up places, It was time to go to the Front!
From white i had some good races but felt underpowered compared with everyone else, so we worked hard on car setup to make the car as good as possible. Went well from white lead quite a few times and got a lot of top ten finishes but just seemed unlucky with the yellow flags when leading.
I hadnít qualified for the World Final, was still white so we decided to give shale ago at the August Belle Vue and also Automotive Electrical was sponsoring the meeting. The first two races were dry and the car felt okay, but then the rain came for the final, but I was looking forward to it being wet. I got an excellent start and was away I had a good lead on Frankie JJ all the way to the finish line and my first win, and it was a final brilliant but also I became the North West Champion, unbelievable.
Stuck it out with the ebay special engine for a few more meetings and then at last got my race engine back. But in the end the ebay engine did us okay.
First Time from yellow at Sheffield in October, won my heat and was placing good all day, it was a close call between me and Joe Nickolls 215 for the Yorkshire Shield, I missed out by about 8 points in the end, well done Joe.
On the following Thursday at Skeggy from the back of the yellows, car was handling great, was leading heat until last corner when Matt 60 Venables did an awesome last bender for the win, but I managed to hold on for second. I was set for the final got a good start and managed to keep a gap from the chasing pack and won again brilliant. Second final win and the East Coast Championship. Couldnít believe it!
Gala night was another good meeting but had a slight misfire or something just not quite right got some good results again and just missed out again on the winter Nationals championship by a few points to Jansen Wilkinson 287.
Went to Stoke at Christmas and raced from Blue and had fun racing on the ice and then mud. Managed a 3rd in the national after surviving a last bender from Little Sarg in 4th.
So all in all what a fantastic season 22 meetings 2 Finals, 2 Championships, 1 heat win a few top three podiums, loads of top ten finishes and at least 6 grade awards.
It was Mega hereís a couple of photos.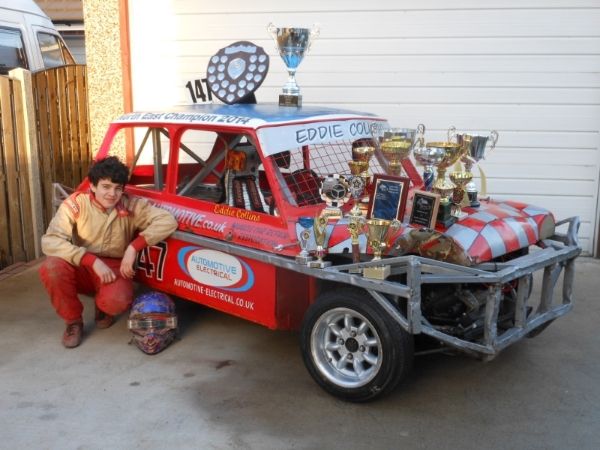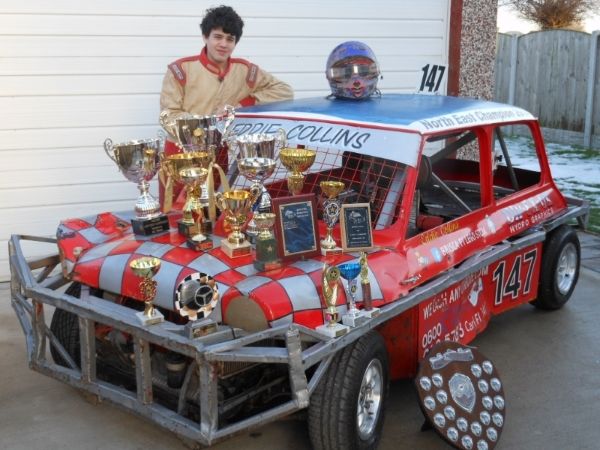 Many many thanks to everybody who has helped me or sponsored me in some way it really has been appreciated there are too many to mention but you all know who you are. Special mentions to Carl Pickering 141 @ We Cash any Cheque.com, Andrew Hodgson at Automotive Electrical Mirfield, Team Webster & MW Fabrications, Team Roper Carlton Caravans, Ian Whitworth & Pedro at Allstox.
We have a lot of work to do before March and ideally I could do with trading up to a better car but unfortunately funds will not allow for that. I really could do with some more sponsorship for next year if anybody is interested please do get in touch.
Also keep looking out for my Lego models that I am selling as any money I make goes into the mini racing. Facebook Brisca F1 Lego Stox.
Cheers
Fast Eddie 147